If you do not yet have an affiliate id you may register for free here.
Current affiliates may log in to check their stats here.

(Note: Please do NOT use the word "Craigslist" in your advertising. Thank you.)


When you enter your affiliate "username" above it will automatically replace your id in all the codes
below so that all the banners, links, and promotion emails will automatically contain your affiliate links coded to your id.

Here's your raw affiliate link: http://www.classifiedsubmissions.com/g.o/

728x90 Banner


Code - Put Cursor in Box - Select All - Copy & Paste into your web page
468x60 Banner

Code - Put Cursor in Box - Select All - Copy & Paste into your web page
468x60 Banner

Code - Put Cursor in Box - Select All - Copy & Paste into your web page
300x250 Banner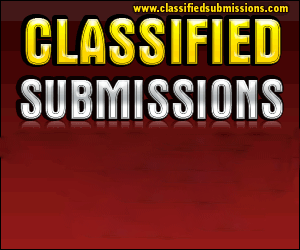 Code - Put Cursor in Box - Select All - Copy & Paste into your web page
250x250 Banner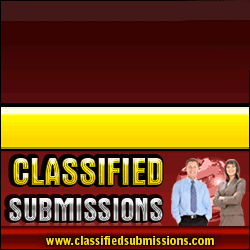 Code - Put Cursor in Box - Select All - Copy & Paste into your web page
180x150 Banner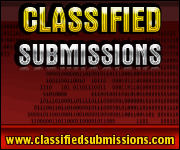 Code - Put Cursor in Box - Select All - Copy & Paste into your web page
160x600 Banner

Code - Put Cursor in Box - Select All - Copy & Paste into your web page
120x600 Banner

Code - Put Cursor in Box - Select All - Copy & Paste into your web page
Image Ad To Use When Using Classified Ads To Promote Our Classified Ad Submission Service
Note: If you are going to use an image ad we suggest your get your own domain name and redirect it to your affiliate url. See here to learn how to do this. We also suggest you download this image ad to your hard drive and host it on a free image hosting site like https://vgy.me/

==========Below Is An Image Ad To Use When Promoting This Program On Classified Ad Sites.================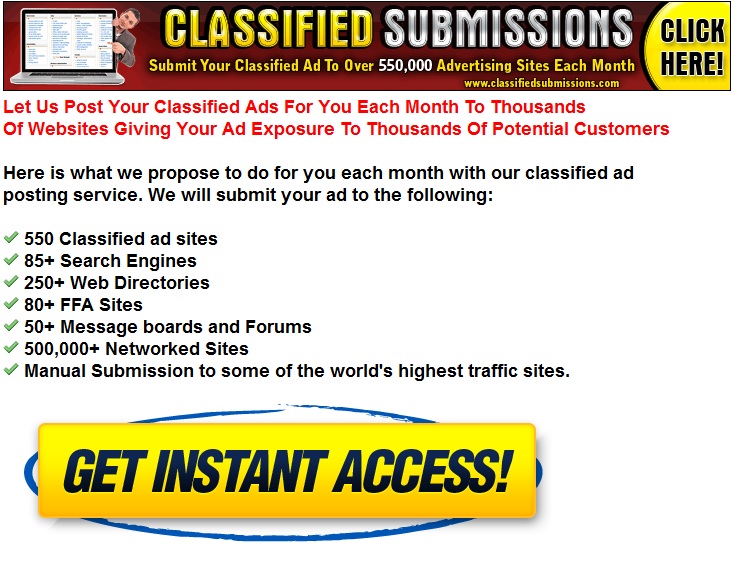 =======Right Click And Save As On The Above Image To Save To Your Hardrive Or======





Code - Put Cursor in Box - Select All - Copy & Paste into your web page





Ad Copy

Short Text Ads (i.e. Adwords/Forum Signatures)
~~~~~~~~~~~~~~~~~~
Submit Your Classified Ad
To 500,000 Advertising Sites!
http://www.classifiedsubmissions.com/g.o/
~~~~~~~~~~~~~~~~~~
Get Massive Exposure For Your Ads
On 500,000+ Sites
http://www.classifiedsubmissions.com/g.o/
~~~~~~~~~~~~~~~~~~
Classified Ad Submission Service
Your Ad On 550,000+ Websites Monthly
See-->> http://www.classifiedsubmissions.com/g.o/
~~~~~~~~~~~~~~~~~~

Solo Email To Send To Your List


Autoresponder/Solo Emails


Autoresponder/Solo Emails


Autoresponder/Solo Emails


Autoresponder/Solo Emails




Article Marketing/Blogging

Here is a sample article which can be used as a blog post or an article to submit to article directories.


I suggest you re-write it a little bit in your own words because Google likes original non dulpicate content. If you are going to do submissions to article directories you need unique versions of the same article to submit. Here is a zip file with 100 spun versions of this article. Remember to put your affiliate links within the articles and in the author's section when you submit.


One very cool article marketing tactic is to turn all these articles into videos using Article Video Robot. You can just copy and paste these articles into Article Video Robot and Article Video Robot will turn the articles into videos. You can then just upload these videos to YouTube.

You can even turn the ad copy on the website and the autoresponder messages below into videos. This software will turn any text into videos with live actors. It is as simple as copy and pasting.See here to learn more about Article Video Robot.
New!
You can now giveaway our ebook "11 Proven Techniques To Help You Get More Sales From Classified Ads" re-branded with your affiliate links. Just give away this book to your list, share it on social media, forums, blogs, traffic exchanges, and anytime somebody orders from any of the links within the ebook you earn commissions!
Giving away free ebooks is a great way to build your list (offer the ebook as an incentive for people to join.) If also is a "soft sell." You are not "selling" you are giving away free information.

See here
to download and re-brand your free copy of "12 Ways To Get More Sales From Your Classified Ads."
Not only will you earn commissions from referrals to Classifiedsubmissions.com but you will also receive 50% commissions on all referrals to our site Coolmarketingsoftware.com.

You can sign up for a free affiliate account with Coolmarketingsoftware.com here.
Many of our customers order multiple software packages and you will get credit for all purchases within a year of people clicking your affiliate link within the ebook!.