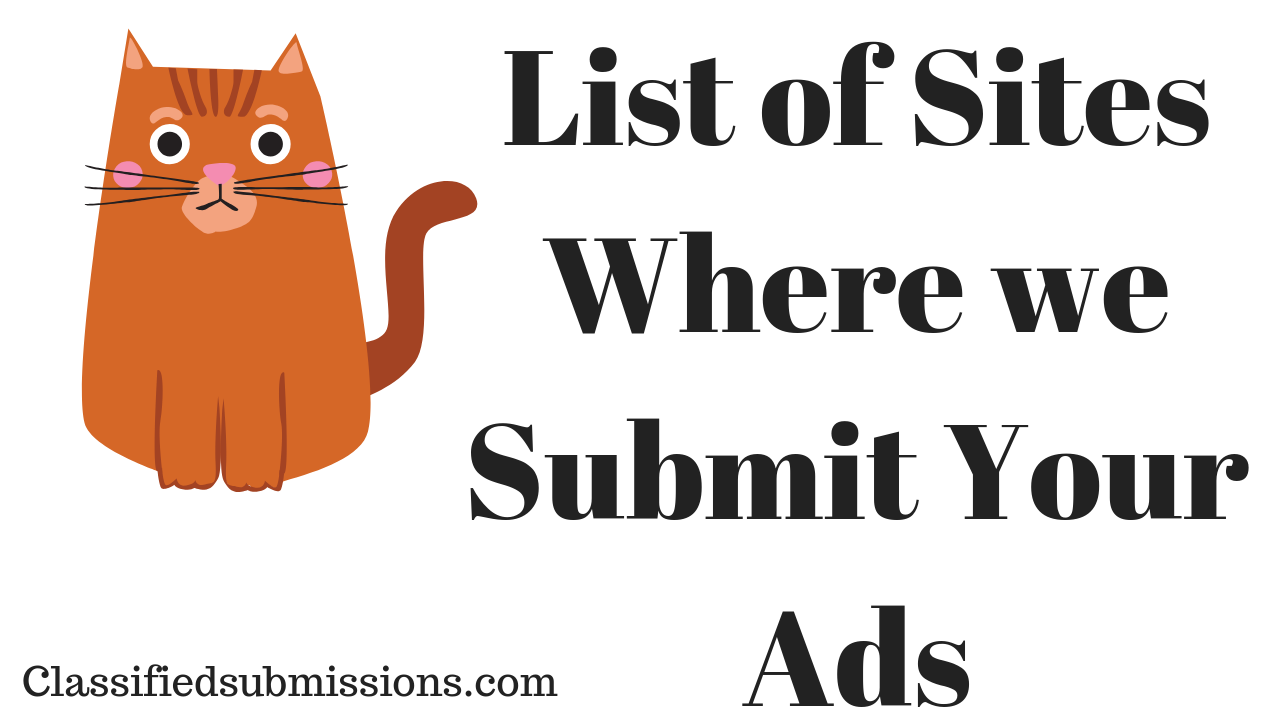 List of Most Popular Classified Ad Sites That Accept Biz Opps and Affiliate Marketing Ads!
http://www.classifiedsubmissions.com/where-we-submit-your-ads/. See the link above to view the list of sites where you submit your ad.
TheFreeAdForum.com– This site has over 42,000 members and ads are being posted every few minutes. Ads on this site get views! We use html ads to create clickable links, we can embed your YouTube videos, photos and affiliate links. We post ads in all of the major US cities. Ads stay live for 90 days!​
FreeGlobalClassifiedAds.com– Super high traffic sites. Ads stay live for 90 days. Clickable links, Embedded YouTube Videos, photos, and affiliate links are posted here to all major US cities. Your ads are continually posted to keep them at the top.

​Usafreeclassifieds.org– Ads stay live 90 days. We post continually to all major US cities (500+!) Non stop promotion. Clickable links, affiliate links, we will embed your YouTube video. Thousands of ads are posted each month to this site. Classifiedsubmissions.com members not only have their ad posted to all US cities in their category but their ads are in rotation on the home page and on EVERY page of this site in a special PRO members featured section!
Articledude.com Classifieds– This site used to be an Article Directory with over 1 million members! Super old domain with lots of credibility in Google. Your ads stay live here 90 days. We included your keywords so Google can find your ads on this High Page Rank authority site!
Quickregister.us Free Classifieds– Quickregister.us is a great place to reserve domain names and you can also place your free ad on this authority sites. 1000's of ads posted each month. Ads stay live. Clickable do follow links. Your ad is continually posted in all US cities on this busy site until you ask us to stop.
​Classifiedadsubmissionservice.com Classified Advertising- Ads stay live 90 days. Your ad featured on every page including the homepage as long as you are subscribed. Your ads are posted to every US city (500+) continually to keep your ads at the top.
Interleads.net Classifieds– Get leads for your business at Interleads.net classifieds. Ads are live 90 days. Your ad featured on every page. Old domain which Google loves. Your ads can easily be found in Google when on this site. Lots of natural traffic!
​Lead Club Classified Ads– High quality site with great SEO. Ads stay live 90 days. Clickable links, YouTube video embed, keywords, affiliate links and your ad featured in rotation on every page on top of non stop submissions to all major US cities.
​Bestinjurylawyerusa.com– Great site for legal and financial services ads. We post your ad to all major US cities. Ads stay live for 90 days.
​Quickregister.info– High traffic bustling classified advertising sites. Ads are live for 90 days. We post 100's of ads all month for you on this quality site.
​Classifiedadsubmissionservice.com– Your ad posted to 500+ cities on this site each month.
​Quickregisterhosting.com-Your ad posted on 500+ pages monthly on this site. Great backlinks. Get found in Google and get more traffic to your website/landing page. We will even embed your YouTube videos and affiliate links. Ads are live for 90 days before rotating off. We continually replace the expiring ads.​
Make Money Do Nothing Classified Ads
We submit multiple ads on 30+ different classified ad sites. Many of them we submit 500+ ads on all US cities in your category. In addition we upgrade your ad on 10 sites (A $50 value) so that your ads stay stuck to the top of your category while the free ads rotate down. In addition we will submit your site to 500+ blogs and web 2.0 properties.
This is our private network of blogs. These are permanent links and can help get your site found in Google.
We recommend that you get your own domain name for this. Even if you are just promoting affiliate links. You can get your own domain name here: http://www.quickregister.us If you choose the yearly option we will upgrade your ad on 30 sites! This is a $165. value.
Plus you save money on the monthly membership. Refer 2 people who also choose the yearly membership and then you can pay for your yearly membership entirely yourself from your affiliate commissions making your membership free for one year!
You can learn more about our affiliate program here: www.classifiedsubmissions.com/affiliate-program
Same video as above on Facebook. This is a list of the top 10 classified ad sites that accept affiliate marketing ads ranked by Alexa.